Vision Plus™ Pro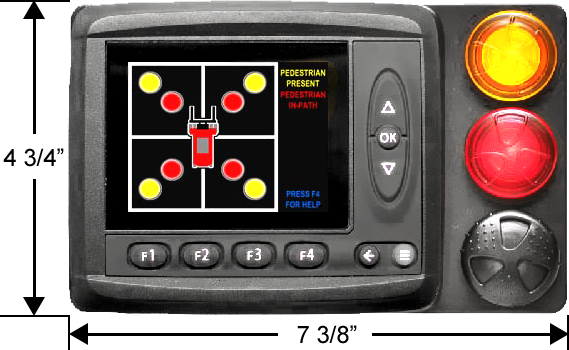 The Vision Plus™ Pro has all the same features described in the standard Vision Plus™ system, plus these additional features.
Vision Plus™ Pro Display Key Features
---
Customizable coverage area with programmable electronic limitations.
MD3 Display Unit with Navigation Buttons has a full graphical screen.
Two (2) Large LED warning lights (Amber - Pedestrian Present, Red - Pedestrian In-path)
Adjustable Audible Alarm
Interactive menu provides access to system diagnostics, troubleshooting, settings and any system errors
Menu includes help pages to explain alert types and system limitations
A counter for both pedestrian detection and in-path detection is available through the display
Detection log available for download with IQAN software
Vision Plus™ Camera Key Features
---
Rugged construction, designed for use in industrial environments and to withstand outdoor elements
The machined aluminum enclosure is anodized for improved durability and appearance.
A Gore® vent is incorporated to allow air exchange while keeping moisture out.
O-ring sealed connector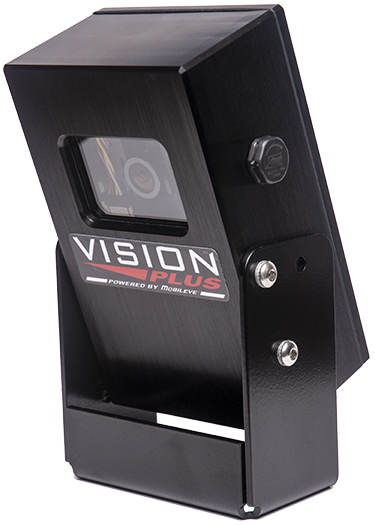 WARNINGS:
A. Vision Plus™ is a driver assistance system which is intended to alert drivers of certain potentially dangerous situations. It does not replace any functions drivers would ordinarily perform in driving a motor vehicle, nor does it decrease the need for drivers to stay vigilant and alert in all driving conditions, to conform to all safe driving standards and practices, and to obey all traffic laws, rules and regulations.
B. Vision Plus™ is not an automated driving system and it does not act as a substitute for any aspect of driver vehicle control or safe driving practices. Drivers are strongly cautioned not to rely on Vision Plus™ as a replacement, to even the slightest degree, for exercising all due caution in assuring that they are driving safely and avoiding accidents. By Installing Vision Plus™, you will be acknowledging and agreeing to operate the Product in accordance with the Safety Instructions and Warnings set forth below. If you do not agree to these terms, please return the Product to your dealer, in its original packing materials, within 30 days of purchase, for a full refund.
C. While Vision Plus™ represents a state of the art innovation in machine vision software and other technologies, it cannot and does not guarantee 100% accuracy in the detection of pedestrians, vehicles or driving lanes, nor in providing warnings of all potential hazards. In addition, road, weather, and other conditions can adversely affect the Vision Plus™ system's recognition and response capabilities. Accordingly, drivers should not rely on the Vision Plus™ system to assure their driving safety, but rather should continue to rely on safe driving practices.
D. Drivers should exercise caution in using the Vision Plus™ Display Unit. Always maintain full concentration on keeping a clear travel path when referring to the Vision Plus™ Display Unit.